IAQUA will change the water-sport market! ... and it did!
we are proud that IAQUA has selected us to insure your happiness!
(official authorized distribution and service partner for Spain, Germany, and Austria ...)
IMPORTANT ANAUNCEMENT! IAQUA IS AT THE MOMENT NOT AVAILABLE IN EU DUE TO BEIING accused to violate registrated design BY CAYAGO (the manufacturer of SEABOB)!
PLEASE UNDERSTNAD THAT WE CAN NOT ADVERTISE OR SUPPLY this specific IAQUA model AT THE MOMENT!
It is our opinion that IAQUA is not illegal! But we were instructed from IAQUA not to offer the accused products at the moment. However, you can still pre order with us an IAQUA dive scooter and we make 100% sure that you receive a legal version. In the long run IAQUA will simply redesign the STINGRAY if that is necessary.

Since our products have been confiscated by POLICE in Spain, because a CAYAGO lawyer insisted that IAQUA is suposed to be a SEABOB "copy",
we want to contribute with our opinion in this matter!
First of all one must understand, that DESIGN right is a comlecated matter. The regular user/ ordinary observer shall not mix up Design rights with simply 1:1 copiing a product!
Here are the reasons, why an IAQUA can never be a SEABOB copy:
an IAQUA SINGRAY is called IAQUA STINGRAY and not SEABOB! This is clearly marked on the product and advertised that way!
an IAQUA STINGRAY is not a 1:1 copy and it would be stupit to advertise, sale a 1:1 copy in stores and on internatinal Boatshows in EU!
an IAQUA STINGRAY is a bit bigger and a bit higher than a SEABOB, so it cant be the same!
IAQUA contures are straight and sqare instead of curved and round elements on SEABOB. Thats a clearly different design language!
IAQIUA contains a different technology and therefore also the design is different! You can not remove the top deck, because IAQUA is simply openend up at the bottom and then you have the insides presented on a tray! On a SEABOB the top cover must be removed (I AQUA does not have that!) , in order to loosen upper screws that hold the inside parts together. If the bottom is then removed the inside can then be removed, like removing a spine with attached organes from a dead fish.
IAQUA has LED lights! The design also reflects this fact! SEABOB does not have lights!
If you look at the back of an IAQUA, then you see a big visual difference between a SEABOB and an IAQUA! The back is the part that is not affected by hydrodynamic design, besides the JET OUTLET. Hydrodynamics is why an IAQUA, and all scooter designs like the 2002 DELFJET and 2008 F7 look similar! Water is 1000 times denser than air! A fast dive scooter must simply be shaped / look like a dolphin in order to be hydrodynamically efficient! IAQUA and SEABOB are both hydrodynamic efficient designs. However, each one is unique and clearly different! It is not possible to claim rights on a general hydrodynamic design! A think must fulfill a fiction, and that can not be protected by design! If a t all then only the very unique part of it!
Let us now slip into a so called "skilled user" view point. Acording to design laws world wide, the skilled user is a person that is aware of a specific product, because he is skilled in recognising, working, using, buying, and repairing a familiar product. This can be a water sport sales man or a private person that does water sports. It is important in design right justice that a skilled must be able to tell a product apart from a possible copy. In reality if a skilled user is clearly aware that the competitor is not the same, then it is not a copy and also not abusing another products design rights!
For example, Jet Skies are very hard to tell appart for "unskilled users". An unskilled user that spots a Jet Ski has now way of telling appart a SEADOO from A YAMAHA or KAWASAKI Jet Ski. There are only three relevant brands today, but they can not be separated easily. The design dencity on Jet Skis is not very high (only three brands), and still they almost look alike!
The reason for that is that form follows function! You have to sit on a Jet Ski, hold the handle bars and with a hydrodynamic shape of a small boat you end up sitting on the same thing ... no matter what the brand name may be.
A skilled user can tell a Jet Ski from far away only apart by soptting the cooling water beam of a YAMAHA. Or the typical aggressive green colour scheem of KAWASAKI. SEADOO Jet Skies look very impressive the closer they come. However, it is very hard to tell them apart and also the technology is the same in all Jet Skies in any case. Nobody on earth would confiscate a KAWASAKI Jet Ski, because it looks similar to an YAMAHA!
Looking at an IAQUA as a skilled user, I can spot immedeately the different, more clear outline. I can see the massive rectangular display. And the overall more masculine look! A SEABOB is curved and round. It looks like sucked up candy that with washed away hard lines. 2010 - 2015 BMW had a similar convex and concarve design. Its a desing language from 2012! IAQUA is 2018 massive and mascular / clear lines design language! SEABOB display is round and it is smaller! Also SEABOB loves to apply chrome on their exterrior. Finaly the brand name is on the side and clearly carries the information that it is a SEABOB or an IAQUA! An Iaqua does not fit into a SEABOB bag! It does not fit into a SEABOB rack!
Please understand that design law lawyers and courts can detail that issue down to elements where ordinary users never ever be aware about.
Still, it is important to protect unique design! However, at the same time one must credit a company that has imporved a product that had a 10 year history and freedom of competiiton. It was clearly not the design and the technical patents that were the reason for SEABOB beiing relatively lonly on the market. It is the acceptence of the clients and in the end the influrencing factor that so many people around the world contributed! We were the fist to rent & event SEABOB! For us it made no difference waht the product name is or how it is shaped. It was simply a dive scooter with state of the art technology inside! Same as many aother rather boring devices experienced a technology boost! Look at street scooters, phones, TV, electric bikes and so on! They al improoved and are suddenly a lot more fun. It is the user that makes a product great not the design! Nobody purchased a SEABOB because it looks good in the restourant or at a party! SEABOB is a high power dive scooter ... nothing more and nothing less! And now there is another high power dive scooter with better properties and updated technology and 2018 desing language. There is not much room for a different design. Look at mobile phones ... who stands out! The user demands a specific design that has a functionality! Better function is better / different design! IAQUA has a rectangular and bigger display! Thats a difference were a difference is possible! IAQUA could not shape the STINGRAY like a brick ... it would not be efficient in the water!
It is simple to understand design protection law if you look back on PRE-EXSISTING DESIGNs (pior art) and know what to compare to!
This is the DELFJET. It was invented between 1995 and 2002. It was offered randomly and in the end sold to investors of DELF Sport GmbH.
It was also available for a short time at GERMAN radio shack "CONRAD".
Here are some interisting documents about the product DELFJET the true SEABOB history.
According to information from DELFJET founders the product was good and business picked up. Suddenly there was a need for more investment.
This was the moment when the CAYAGO founder Mr. Peter Walpurgis came along and purchased DELFJET rights and patents. If the former company went bankruped or simply stopped is not clear, however, lots of DELFJET founders were left with lotrs of questions and lost actualy their invetment!
However, the design was then already revealed and form that moment on part the DELFJET / SEABOB F7 are prior art!
A pre existing design of course influrences the design language from that point on. That is why it is called prior art.!.
The way a modern dive scooter is creating a impression on the user is influrenced by desing evolution ( prior art)!
We want to give you an insight on this evolution and sharesome facts about design rights.
It is not true that a registrated design automaticaly overrules already existing design (prior art), even if the rights are held by the same company/person!
First of all a design must be new and unique. If it is not new then it still will be a registrated design but it is simply worthless because it can be deleted if anybody can proove that it was not new! Design right registration does not involve any check on prior art by the reistration office! Any design will be allowed.
A SEABOB F5 may be an unique, however, an IAUQA is also unique and has a registrated design. Both of them have the same design roots! This is what we want to proove to you now: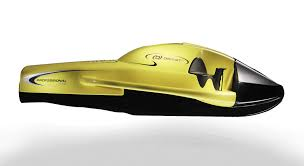 "DELFJET" 2002, (picture from INTERNET) This is the original design of all modern scooters that followed. Does it remind you on an SEBOB? If it does then SEABOB registrated design can not be "unique" and is in fact worthless design right.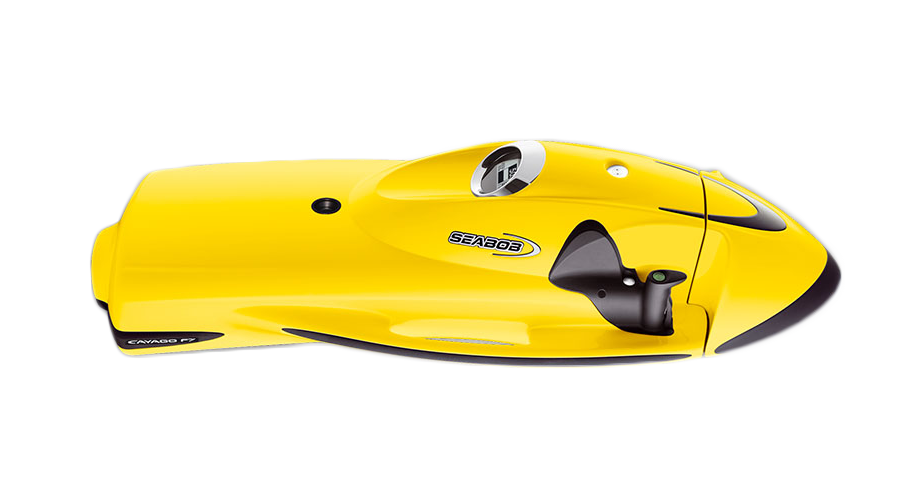 (picture from CAYAGO sales adverting material from internet)
This is the basic design of the follwing SEABOB models: Ravejet, 5.12, 5.12 ACS, 4.12, F7.
CAYAGO gave it many names and many colours. This is the old SEABOB design. It was revealed around 2007 up to approx. 2014).
Oh, did you notice the simiarity? Does it remind on the DELFJET?
Well, all that CAYAGO (former Rotinor GmbH) in our opinion did, was giving the purchased DELFJET a face lift and named it SEABOB! The rest was marketing. and to an we (www.seabobbase.com / TOYMASTER TIMELINE) were part of the marketing and actually made SEABOB famous!
First SEABOB rental base, first SEABOB scuba dive, first SEABOB try&buy, first SEABOB repair was our success! Many other SEABOB friends followed.
So lets get this understood in detail.
DELFJET is the Granddady of SEABOB design and lets say this "granddaddy married CAYAGO. Together they had a chiled that looked a lot like the granddaddy (Delfjet) and they named it SEABOB (second name Ravejet, 5.12.5.12 ACS,VX2, F7)
Lets see what the children of DELFjet and SEABOB look like:
| | |
| --- | --- |
| SEABOB F5 series | IAQUA NEO + |
| | |
Do baby girl SEABOB and baby boy IAQUA look alike? Yes they do, because they are both children of the F7 / Delfjet genoration!
Are they twinns! No they are not!
Lets see waht they look like with "their pants down":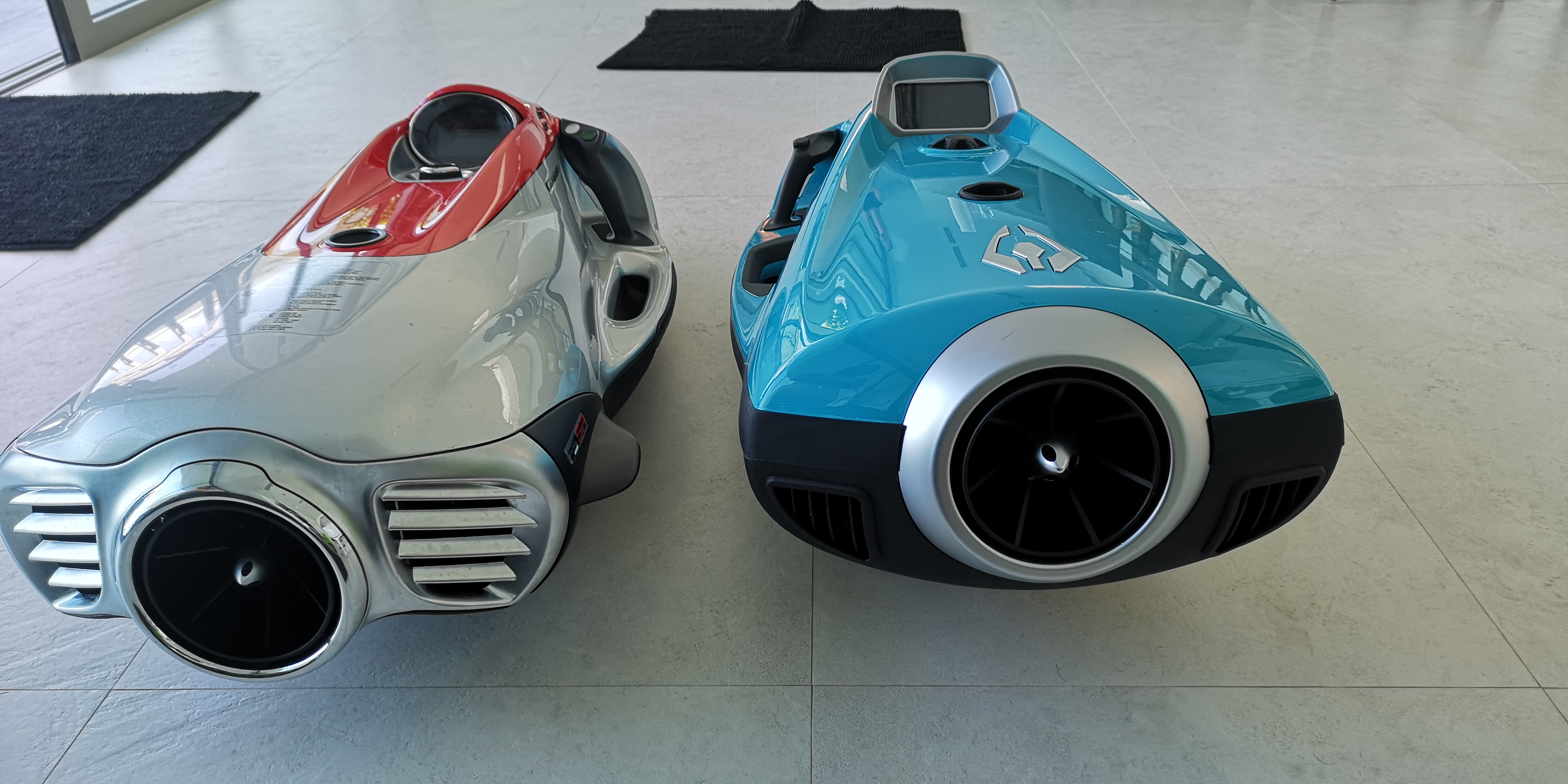 wow, is that not a big difference???
You can clearly tell boy and girl apart or not? CAYAGO SEABOB compared to IAQUA STINGRAY from behind.
SEABOB girl is ab bit older than SEABOB boy. That is why she looks and styles a bit older too.
This above design evolution example is how desing law is handeled by the law!
In the end it is the ordinary observer / skilled user that needs to be able to tell the difference. If "family and friends" can tell the "children" SEABOB and STINGRAY appart, then all is ok!
So waht is the problem?
Well, in design right fights the main goal is to stop the bussines of the competitor by all means! In our case CAYAGO stopped sales of IAQUA STINGRAY at Monaco boatshow 2018 and PALMA Boatshow 2019. How did they do it?
Well for Monaco Boatshow the CAYAGO lawyers simply sent a letter to the boat show director and accused IAQUA on infringing rights. In other words they wrote a simple letter accusing IAQUA of somthing that is not actualy proven to be correct! Since IAQUA was at the show as a guest on a friends stand, thy simply respected the friend and resinged from the show. CAYAGO has a stand on Monaco show and of course the show director had intrest to protect his good client as well.
At PALMA international boat show the storry was quet different! We were presenting legaly imported IAQUA Stingrays on our stand as exihibitor! Since 6 years we are exhibiting at PALMA internationa boat show. We also warned the boat show director about CAYAGO! We had a letter in place that stated that CAYAGO will try to accuse us of selling something illegal. Exactely one day before the show CAYAGO used the same "trick" as in Monaco and sent a letter to the show. THe show director was not impressed and did not kick us off the show like the Monaco show officials did to IAQUA!
CAYAGO was prepared and had a spanish lawyer in place that simply PERSUADED the police to confiscate our goods WITHOUT any legal judge decission in place, cusing a 45.000€ damage to us! Yes, this is true! download the entrire consfiscation statement of facts report here!
How do lawyers persuade police and in the end judges? Well it is simple! They compare pictures of baby gurl and boy CAYAGO SEABOB / IAQUA STINGRAY! They use of course not a picture where you clealry see the deifferences (compare above pictures with SEABOB and STINGRAY side by side viewed from behind), they use a a picture were both are showen in an angle that does not point out differeces. Like comparing photos of people from far away / showing only their outline.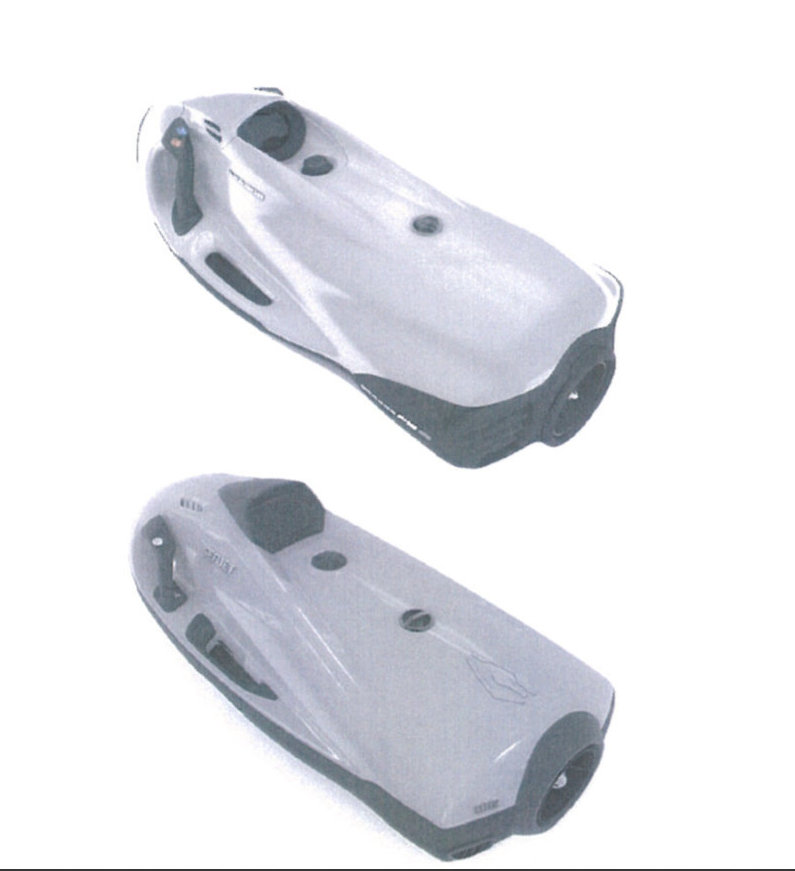 They do look alike, why?
First of all the above picture comparison is the point of view where both products look alike as much as possible! On top of that CAYAGO lawyers obviousely used some photoshop tricks to create an illusion. A police officer that never in his live saw a real SEABOB or IAQUA can not possibly judge that IAQUA is a copy of SEABOB, based on the above comparrison alone!
This is how they tricked around in our opinion: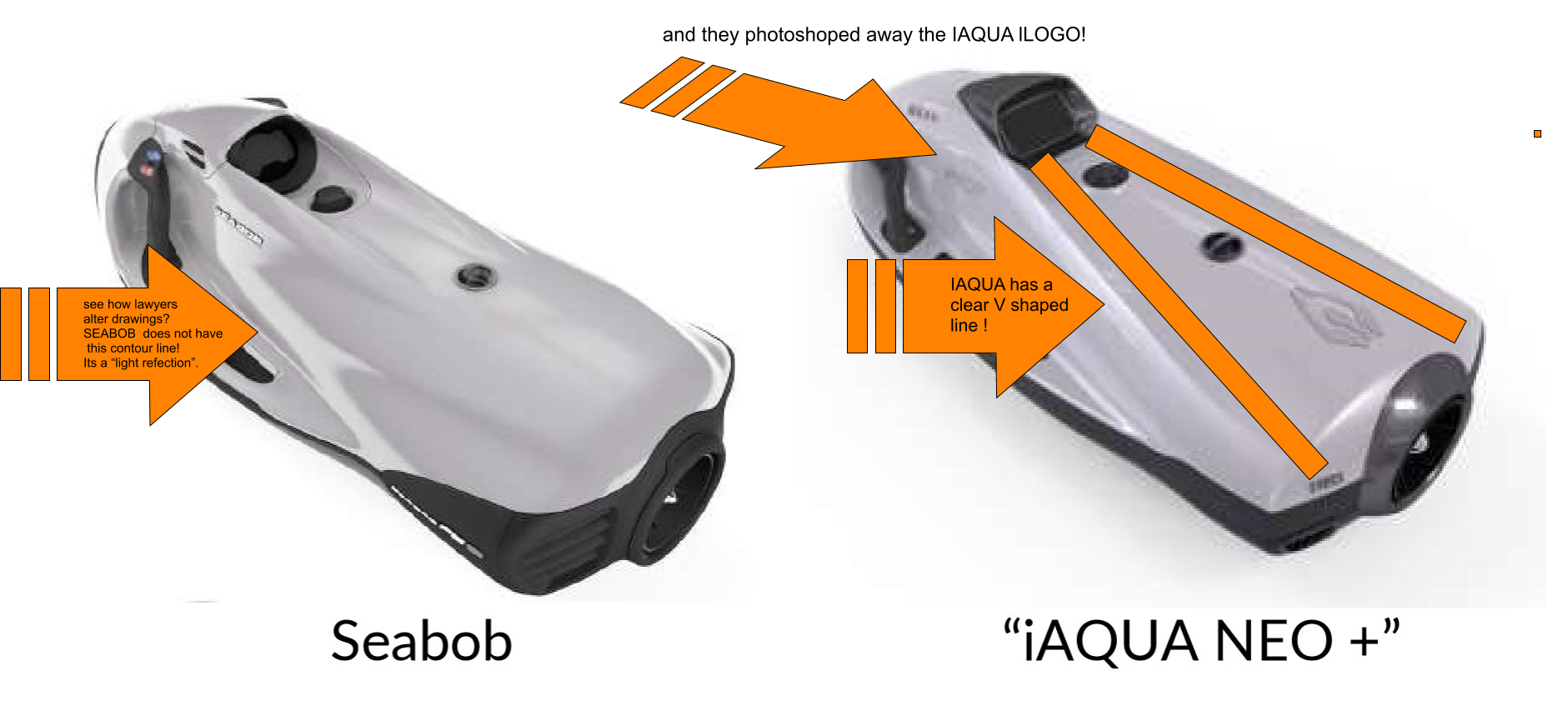 You can clearly sea how the most matching viewpoint of the design is usedto suggest a similarity!
On top of that the SEABOB has a "light reflection" contour line that in reality does not exist!!
This in our opinion a cheap attempt to make the SEABOB look actualy look more alike an IAQUA!
And to emphasize that impression the IAQUA logo has been erased to an extend where a plice or judge can not sport it!
Those are original pictures from the CAYAGO Lawyer accusation letters that were sent to the boatshow and police, in order to accuse us to simply sell fake goods ... as if we were selling fake RAYBANS!
We have evidence that proof eveen more clearly that CAYAGO or CAYAGO lawyers (MLL in switzerland) have actualy faked images in order to presuaide official boddies to belive them and take action! We are wondering how it is possible in EU to actualy destroy a competitor by simply spreading lyes or at least not prooven accusations!!!
And now, last but not least, here is the OFFICIAL registrated DESING RIGHT pictures next to each other! Why were thy never presented to police and the judges? Whats wrong with EU law? Are we talking about free market or rather an illegal persuasive way of stopping oir business on a free market?
Patents and desingn rights are an respectable way of protecting an invention or a unique design! Clearly patents and design rights shall not be abused to prevent free competition and actually improvement of of goods and innovation! THis has been stated by EU law and is valid around the world!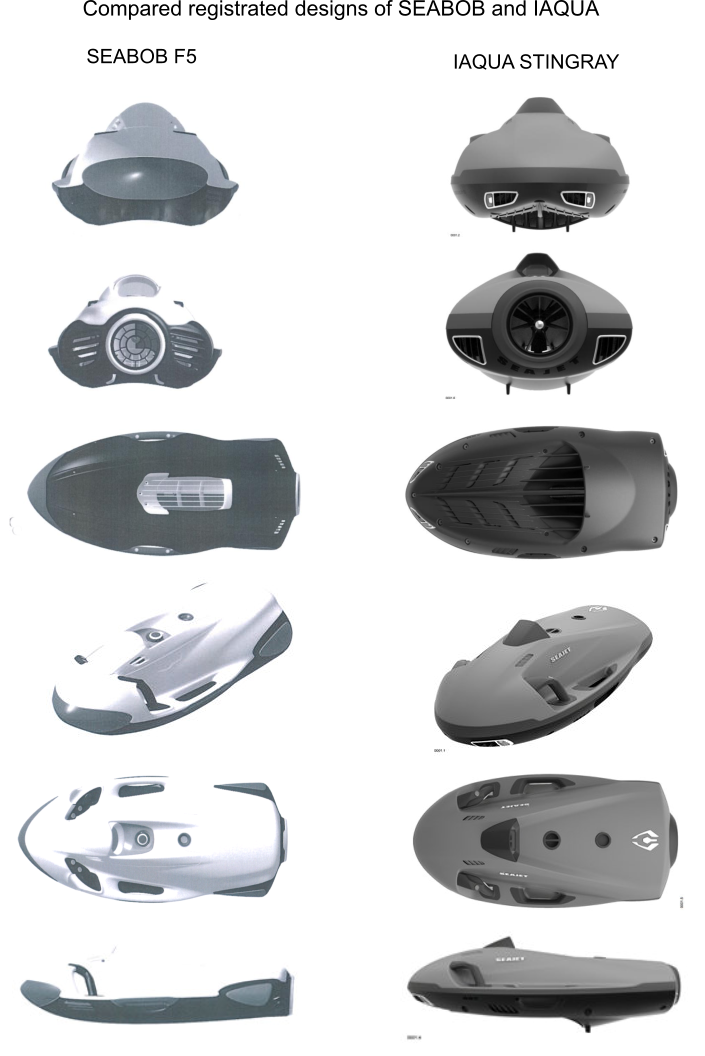 We wated to fit all immages on one page. The proportions may not be 100% correct. However, anybody can clearly see that IAQUA STINGRAY is not a 1:1 copy of SEABOB and also not the same design, in the light of DELFJET beiing the original modern dive scooter pre existing design!
Keep in mind that Granddaddy DELFJET is the "original design", all numerous other old dive scooter designs also form the existing art pool (remember James Bond 1960 in THUNDERBALL , and even every hydrodynamic submarine and boat are the base for above dising variants!
We conclude clearly that IAQUA is 100% legal and CAYAGO has to pay us a 186.000€ damage for having the police confiscate our products and block our business this entire season!
By the way, we imported those goods with all legal documents, CE papers, papers and we paid already VAT on it! So Spain government has already made profit on fake goods! How is that possible while CAYAGO has literaly illegaly taken the products with help of a "lawyer" and presuaded police!
What a mess!
We had no chance to prepare above TRUE desing evolution / explananton to the police! THey simply took our goods and messed up our boat show completely!
We still can not belive that this has happened in EUROPE!