This is a TOYMASTER #badwatertoymaker whistle blow 
The plain facts:
IAQUA delayed bankruptcy during 2022, while owing TOYMASTER and other contract partners significant amounts! 
IAQUA Owner Mr. Simon Phillips (british citizen with Indian culture background) sold more than half of IAQUA LTD despite IAQUA unable to pay or deliver.
Valuable assets (IAQUA NANO, AQUADART) were illegally sold to a Mr. Mike O'Neil (close friend of Simon Phillips!) 
Globals sales rights were ilegally transfered to the new owner, hence breaking existing distribution agreements & contracts!
IAQUA illegal and unauthorized marketing & sales team, created new direct factory sales page from ... bypassing distributor tests and delivery orders.  
IAQUA has an estimated of over 1.000.000@ open IP fight legal costs, due to ongoing PATENT proceedings in many countries and open responsibility agreements. 
The full story in detail:
Ince 2022 IAQUA has not paid its debts to partners and is VIOLATING contracts & agreements, since 2022 promising and actualy never ending lies!
We must warn clients and especially business partners of dealing with IAQUA or it's main players:  Mr. Simon Phillips, Mr. Jason Phillips, Mr. Mike O'Neil, Danish Mohammed (Manager).
We must warn not to buy IAQUA PRODUCTS, because the new product line "NANO" is shipped in nearly prototype state, without manual, without proper CE certificates, and seem to be aimed to make rather fast profits for the new illegal "owner" of IAQUA. 
There can be no aftersales support because the "new team" does not care of open former IAQUA product issues, especially very dangerous IAQUA batteries and failing ECU units. IAQUA batteries are not available and can not be shipped to clients.
IAQUA distributors, that are skilled and authorized to handle IAQUA batteries are not supplied. TOYMASTER is waiting on at least 15 sets of dangerous batteries to be replaced by IAQUA!
TOYMASTER has removed dangerous batteries from IAQUA units without IAQUA paying for the damage and work!
IAQUA FAILED to recall the dangerous batteries, tries to forward responsibility to the dealers, while selling the company. 
Why did IAQUA sell shares?
Reason was supposed to be the lack of funds, the corona crises and a financial set back of Mr. Simon Phillips core car part business / ct automotive, This is what Mr. Phillips told us.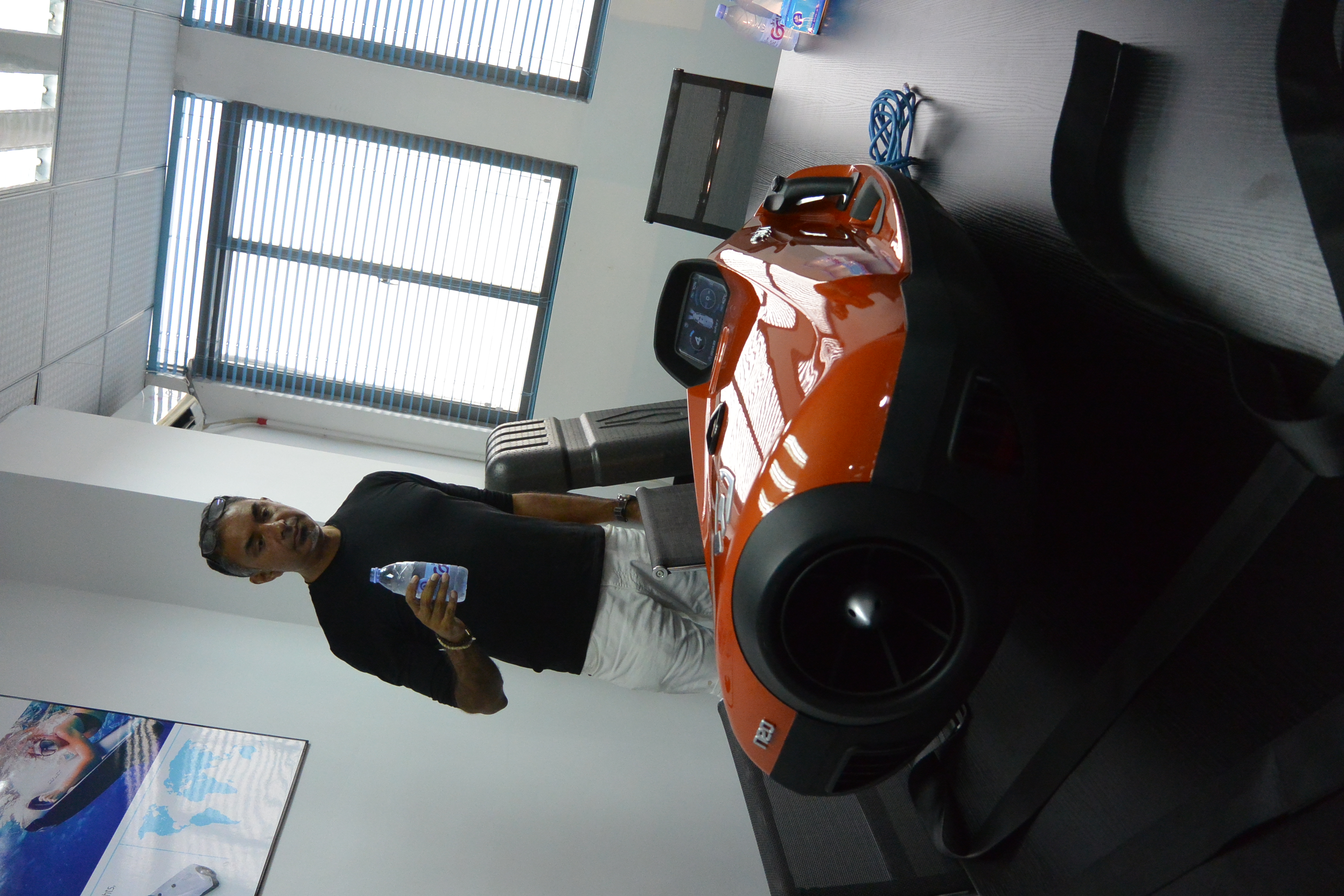 Mr. Simon Phillips, founder of "IAQUA" (former SEAJET), owner of CT Automotive. TOYMASTER visit of IAQUA Headquarters in 2018. 
Since approx. mid 2022 Mr. Mikel O'neill (british citizen, cuacasian look) and a person called "James" (calls himself IAQUA Global Sales Manager), seem to be in real charge, despite Mr. Mohammed (Indian citizen) still "acts" as the manager of IAQUA .
So far "Mike" has not introduced himself to us as new owner, main share holder, and in complete charge of IAQUA!
Never the less the "new IAQUA team changed distribution and sales to exclusive direct sales from Chineese factory, partly through different companies called "Campus Locker LTD".  
Hence, the contracted IAQUA distributors are no longer listed, former IAQUA page has gone offline, IAQUA is searchimg for new dealers.
We can only warn you that IAQUA has significant open debts! The current IAQUA sales team is NOT authorized to sell the assets of IAQUA, unless debts are paid back, and legal responsibilities (open damage charges and legal bills!) are cared for.  
The IAQUA demand was pushed by investing in direct sales marketing, but only "internal buddies" like IAQUA Thailand seem to be supplied. 
TOYMASTER was supposed to test the new NANO in THailand November 2022. 
We waited untill Feb 2023 (!), receiving promis after promise, while the illegal IAQUA sales team was supplied with NANO to first present them at Phuket boatshow and for rental purposes to the Thailand IAQUA dealer "MAXMARINE"... good friend of Simon Phillips, his SUNSEEKER Yacht dealer, and the MAXMARINE owner's son is actually emplyed by IAQUA/ part of the development team/ current core aftersales manager (?) ... no one knows whats is going on, no clear structure within or outside of IAQUA!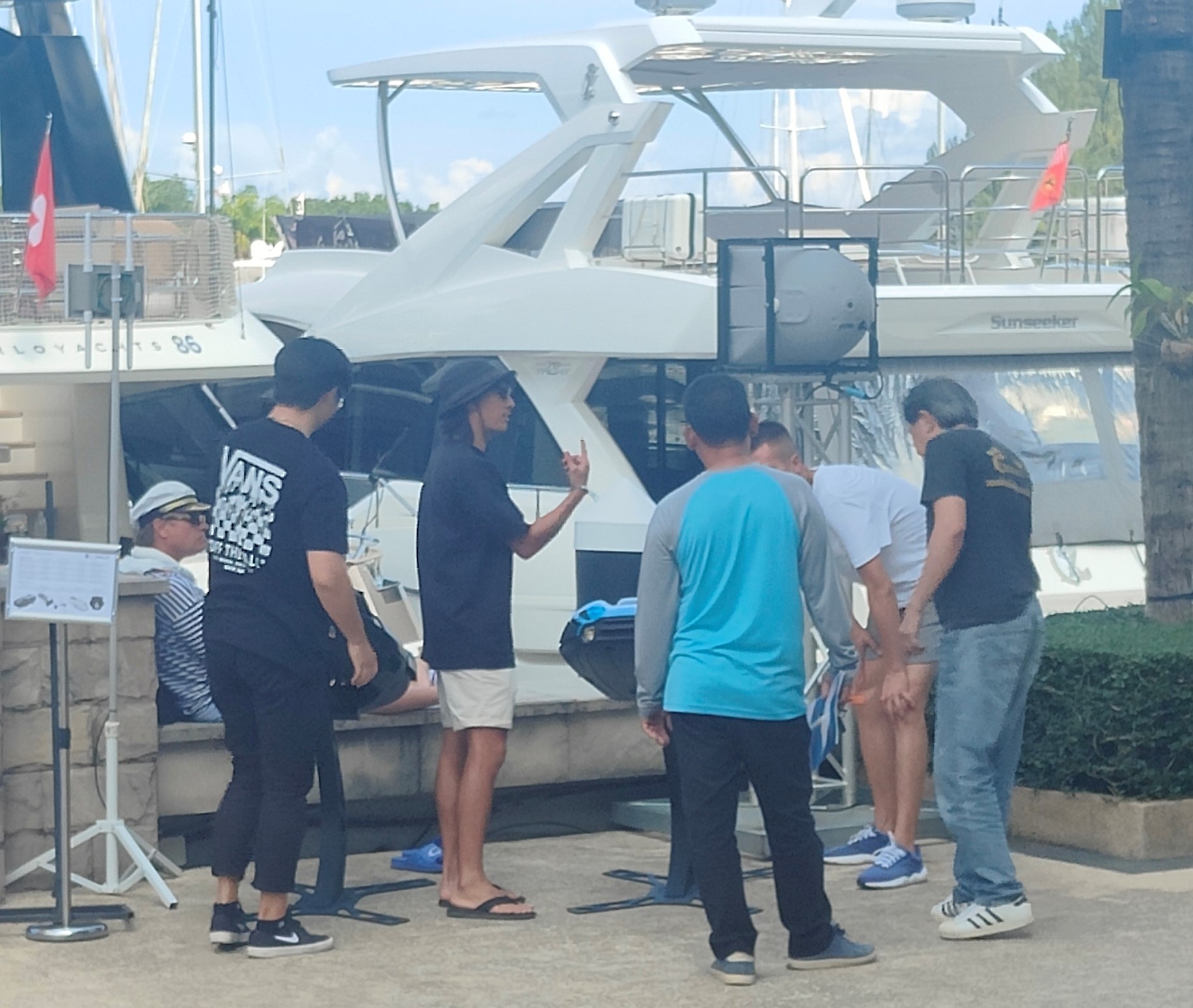 IAQUA TEAM Thailand at ROYAL Phuket Boatshow, displaying NANO and IAQUADART range.  
TOYMASTER, and other dear distributors in EU only wonder since the illegal sale of the Globel Sales Rights and unauthorized acces to IAQUA production/ deevelopment, what is going on!
We all receive only answeres that make little sense, like "the manager Danish Mohammed is bussy organizing his marriage in India".   
Well, congratulations for at least making the bride happy in the middle of the water sports high season in EU, pending debts, pilng up open legal costs and DAMAGE clames, let alone a list of open promises and aftersales issues.  
As far as it concerns our clients we will advice to cancel the pre-paid orders for NANO dive scooters for the time beiing, because delivery time has been delayed by many moths already and and we have received no outlook when or if NNANO will arrive.
Other IAQUA partners report similar a situation, but partly seem to still fall for the promises from India/ China.
However, we already warned out clients to be open for surprices and of cours we did not pre -pay IAQUA sind they owe us anyway.  
To wait on a product is not necessarily a disaster, but there are other reasons in the background that make clear that there is a rip off and ESCAPE of responsibilities in progress!
This means IMMINENT DANGER to all that interact with IAQUA or Mr. Simon Phillips, or Jason Phillips, or Mr. Mike O'neil and the unauthorized IAQUA sales team!
It is our duty to inform about big changes! A new IAQUA owner is surely something worth mentioning. 
We did receive one NANO 620 (to late to be displayed at PALMA boat show), and rather to buy more time and create pre-payments and free advertising.
THis NANO 620  unit came without even a manual ... let alone the included quick charger.
Its performance and features are not exactly as advertised and expected (compare our TOYMASTER NANO Test)
On top it has typical "china production" issues that we will not point out for the moment, because we will no longer support the ILLEGAL IAQUA team!
We strongly advice not to pre- pay in advance for any IAQUA unit! If at all then buy only what you can carry away! Check if there is a manual and proper CE certification. Ask the dealer since when he deals with IAQUA. Ask if the dealer has completed aftersales training in China? 
We will pause our IAQUA relations untill Mr. Simon Phillips / the new owner/ main shar hoder "Mr. Oneill" has confirmed the standing agreements, has paid open depths,  and especially takes care about the responsibilities that come with the ongoing IP (Patent) fight between IAQUA and it's competitor.
We have goven IAQUA endles opportunities and time to solve issues, even step by step. 
IAQUA is out of control and nobody knows who is in charge, let alone in control of the assets.
TOYMASTER will also inform the Chineese, British, and Thailand authorities of the most likely criminal, at least in a business sense illegal acts of the indeviduals to be investegated.
Patent court in Munich has recently rejected the Patent Nullity claim that was filed by TOYMASTER on behalf of IAQUA products beiing competible/ legal on EU market. 
IAQUA shows no eal intrest in proceedings, is only buying time to make profits to now strange new owners (buddies of Simon Phillips). 
It was a bit strange to follow up the judge's opinion and argumentation, but we will most likely accept this resoluton, since it is not our mission to harm 3. parties!
TOYMASTER is definding itself with the support of IAQUA, because the competitor in Germany calls IAQUA products infringing. 
IAQUA Limited is based in Hongkong, which makes TOYMASTER the one beiing charged in EU.
However, IAQUA promised to take care of legal stuff and that the IAQUA products do not infringe patents!  
TOYMASTER can only refer to it's core philosophy: 
that we rate the product, the manufacturer, the frame conditions,  and aftersales performance , because it must be seen as a package.
IAQUA had severe battery problems, and if it was not for TOYMASTER caring for its clients and pushing IAQUA to provide the hardware to exchange parts,
there would have been some very ugly pictures around: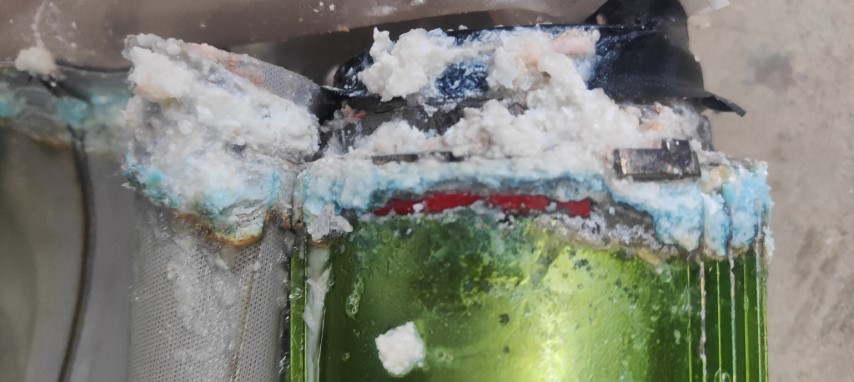 This is a IAQUA dive scooter battery. You can see the green battery container that has busted open due to chemical reaction of water ingress with lithium cells.
This battery version has a golden coloured cap, which prooved to be not sufficient. 
In Australia this IAQUA battery type actualy burend on a pick up truck that transported an IAQUA STINGRAY.
On Mallorca we had a case where we had an IAQUA battery nearly burn.
This battery in the picture TOYMASTER recovered from a client.
The reason for the very seriouse battery problems was the decision of Mr. Simon Phillips and Jason Phillips to put a protective bag around the dangerous failing battery container, despite the TOYMASTER warning, that this is not a sufficient way to solve the problem (we can proof this fact!).
Never the less profit driven IAQUA supplied many IAQUA to EU and into the world that had baged batteries.
In many cases the bag did not hold back the salt water due to pointy epoxy bits puncturing the bag.
THis resulted SALT Water to enter the bag, and permanentely surrounding the already low quality make of the battery container.
The resulting permanent high salt concentration around the battery container acted like an assit that eats trough the container edventually, untill there is water ingress.
IAQUA sensor technology stopped such a battery from beiing charged, but such a battery remains a hazard until discharged.
In any case a lot of clients suffered this fall back and lots of clients probably still dont know!
We hope IAQUA will continue on the legal track to become a true competitor at last.
Part of the game is to pay the damage that was caused by taking into account that the competitor gets disadvantaged.
IAQUA had true potienial and could have become in my opinion a fair compeditor even in EU market. 
However, TOYMASTER does not support criminals, and as long as IAQUA does not anounce officially what has been going on,
and does not come back on the "fair play" track, we can only sadlly blow the whistle and warn anybody of IAQUA and it's suspects!
Stay tuned!