Update 28.10. 2023
The termionation agreement between IAQUA and TOYMASTER has failed, because IAQUA so far did not comply, demands (not to say blackmail) TOYMASTER to basically free IAQUA of ANY responsibility and costs in numerouse IP related (past, present, future!), basically open IP cases cases!
This is not acceptable! TOYMASTER asked IAQUA to cover at least a minimum of the overall demand, but IAQUA is not able and also not willing to cover even "peanuts"!
Any investor (or IPO related investor) shall be aware,  that currently IIAQUA and it's share holders (present and former share holders) have not solved underneth stated accusations and facts (mainly illegal sales of a bankruped companies*s assets/  business fraud).
Also IAQUA has not settled the debts and IP related open claims that EU courts have already confirmed. SInce IAQUA dupplied infringing goods, IAQUA stays responsible, unless an agreement is in place.     
IAQUA bankrupt?
 Update 02.08.23
Upon our pressure IAQUA has forwarded  approx.the sales value of one IAQUA worth of compensation for court costs. 
However, there is no solution or plan in taking over responsibillities and paying back the money that IAQUA owes TOYMASTER!
Meanwhile we notice that IAQUA dealers like wave-lovers.com (supplied most likely from the German IAUQUA Distributor) have taken over the MALLORCA IAQUA Market, despite the fact that 
TOYMASTER has an existing selicitve distiribution agreement with IAQUA for Spain and other regions. 
We can only WARN dealers not to trust any agreement with IAQUA and NOT to pre- pay IAQUA for products, let alone prepay  IAQUA sub dealers. 
We have reports that IAQUA dealers can not deliver what has been ordered.
Despite our urgent requests, IAQUA does not reply on aftersaels issues, like failing ECU (main boards), failing displays.
Also numerous bad quality IAQUA batteries are still to be exchanged/ replaced! IAQUA does not care for those issues/ aftersales not replying. 
Important information: all existing IAQUA dealers in Spain do NOT have a proper training, experience, and qualification to service IAQUA products, especially IAQQUA batteries! 
Update 24.07.2023: 
original email from IAQUA 13.07.2023, names are replaced by XXXXXX:
"Robin,
This email is to confirm that iAqua has been in communication with XXXXXXX and have been working with him to resolve your situation as early as possible. XXXXXXX is on vacation this week, therefore he might not be reacting to your communication. Meanwhile, we have agreed to make a payment of EUR 15,000 towards the court fees, which we will do by the end of next week. When XXXXXX is back from his holiday (end of next week), he will communicate the other matters with you and our position regarding the same. Best regards, Danish S M Managing Director IAQUA Limited" :::::::::::::::::::::::::::::::::::::::::::::::::::::::::::::::::::::::::::::::::::::::::::::::::::::::::::::: end of email
First of all, this is one of many emails, where IAQUA is actually buying time instead of solving an issue, let alone pay for damages and debts. The damage of 2019 (infringing STINGRAY product) is still not fully paid by IAQUA!
Despite forwarding the invoice and precise account information, IAQUA did not pay the court fees (IP fight costs, caused by IAQUA) as promised in above email!
This is an up to date proof that IAQUA is unable to pay!
By the way, the 15.000€ would only be a fraction of the open IP fight costs and wide open lawyer's bills that IAQUA has failed to pay since years.
All IAQUA lawyers that I know (even directly from IAQUA contracted) claim open bills!
The above resent email is only an example of the endless promises and excuses from an actually bankrupt company under the mamagement of criminals!
XXXXXX is on vacation, true, but in constant contact with me. It is IAQUA who has not been in contact and escapes responsibillities!
Mr. Danish resent excuse was that he was getting married in India and could not "respond to matters" due to his marrage schedule that lasted approx. 3 weeks.
This means the Manager of a bankrupet company is granted vacation and gettimg married (!!!!), while IAQUA faces bankruptcy problems, severe IP right problems, and piling up aftersales issues? The carless behaviour of IAQUA triggers massive damage to IAQUA dealers, the competitor in any case, and also the clients.
Danish speaks of "other matters" as if owing more than 200.000€ to TOYMASTER would be a simple "matter", let alone the nearly Million € that IAQUA must pay on damage costs and fines due to production and distribution of patent infringing products! Those matters are unsolved since 2022!
WE ADVISE IAQUA DEALERS TO HAVE ALL OPEN INVOICES COVERED AND NOT TO TRUST IAQUA CONTRACTS OR PROMISES!
end of Update
Since approx. mid. 2022 IAQUA was already not able and also not willing to pay open bills, let alone open debts.
Many of the IAQUA product versions have either been accepted by IAQUA as infringing (so called cease & desist agreement regarding the IAQUA STINGRAY design), or EU corts in Spain, France, and Germany rueld an priliminary injuction or/ and first instance resolutions,  that litteraly all Products prior approx. 2022 are infringing CAYAGO patents.  
This is an ongoing IP right "fight" between IAQUA and CAYAGO, were in EU distributors are legally attacked by CAYAGO, because IAQUA hides in China and escapes its responsibillities. 
This is a civil process in EU that requirers IAQUA to alter its products in a way to NOT INFRINGE any CAYAGO patents, and cover court costs and damages that were caused by infringing rated products!
Besides the IP related product evolution IAQUA also caused a lot of aftersales damage!
First IAQUA dive scooter versions had e.g. a hull type that can not be opened without causing irreparable damage to the hull.
Due to failing modules (Displays, ECU, Batteries ...) hulls could not be opened easy/ IAQUA units were impossible to service. Damage was caused!
Also important SAFETY features issues are still unsolved/ IAQUA seems to ignore and escape it's financial responibility regarding initializing and covering Batterie recalls.  
However, IAQUA can not deliver the currently advertised and promissed current products. Product tests revealed severe set backs (SEASON 2023).
At the same time the new IAQUA global sales team sells IAQUA products direct! This is at least a morally speaking a massive betrayal of IAQUA distributors, dealers, and partners. 
Be aware that the "new IAQUA team" seeks new dealers and therfore escaping the responsibilities and agreements with former dealers. 
https://www.iaquawatercraft.com/become-a-dealer
Our monentary advice? Don't fall for it! Don't trust this people as long as they are hiding in China. Even in China they can not be trusted!
We already have reports that new dealers have been "ripped off" by demanding 100% advance payment, but crucial delivery deadlines violated. Totally unacceptable in water sport business ist eh fact that this dealer was actually our B2B client, based on IAQUA selective distribution competition law. THis means IAQUA violated agreements, double "sold rights, and changed the selective system to a none selective system. This means that any dealer can sell IAQUA, regarless of his qulification or ressources ... idially it is only important that he pays fully in andvance! 
In the consequence we had to sadly cancel NANO pre-orders and at least paid back our dear clients the pre-paid amount.
Instead of 2023 profits, we only had costs for e.gl Austrian and PALMA boatshows and now disapopinted clients.
IAQUA had changed from "selective distribution system" to DIRECT Sales from China, without prior notice to the distributors.
A new IAQUA internet site was created, new IAQUA Sales & Management team simply deleted the online list of IAQUA distributors.
Without controlling the import we can no longer monitor the product quality and therfore we will stop for the time beiing any IAQUA service or sales. 
We tested the newest product IAQUA NANO, and already found typical china prodct no goes, such as razor sharp parts.
In our opinion current product sales are actually illegal because a unknown sales team has direct access to products and seem to pre-sell the future production without any authorization, without proper quality management, without CE certification, without any manual, and completely against valid trade agreements, causing open more dbts and piling up open costs and IAQUA related resppnsibilities. Who is responsible? Clearly
Mr. Simon Phillips, along with his Brother Jason Phillips, and his son Nat Philips (responsible for IAQUA promotion and illegal act of distributing a STINGRAY model on IBIZA!).  
The core IAQUA team are actualy natives from India or former Inian culture people.
They seem to be british citizens but in our opinion very far away from beiing brithish gentleman like ... let alone reliable business partners! IAQUA is supported by chineese electric engeneers. CT Automotive is the core company and the core supply of ressources that made IAQUA possible. 
It could be advisable for the car industry to question this supplyer as well, because in our experience they are unreliable and seem to "hide" behind off shore companies, while living pysically in mostly Thailand. 
How do we know? Well this is were TOYMASTER met IAQUA (former SEAJET) the first time at KATA Rocks boatshow were the STINGRAY Concept was published. 
IAQUA has been somehow rather secretly sold to a new owner (so called "new main share holder"), that seems to have taken over IAQUA with an entire new team, and has direct access to the IAQUA products and IAQUA accounts.
Share holders are usually not involved in active business and shall not be able to influrence the business to their own benefit/ violating agreements and ignoring debts. 
This raises also the question if "the new team" is properly employed in the first place.
We have so far no clue who is now rightfully managing IAUQA, but we can see clearly who pulls the strings.
According to Mr. Simon Phillips it is his friend and new main share holder Mr. Mike Oneil. We never saw a sales contract! Products seem to be sent via a company called "Campus Locker", which seems to be owned by this Mike. As the main distributor for IAQUA in EU we never were introduced to Mike! ... thats super strange. 
If a company is not able (or willing) to pay bills, then bankruptcy is imminent and must be filed accordingly without delay with the local authorities.
Such a process is obligatory in order to PREVENT further damage and to secure the assets!
Bankrupt means the high chance that assets are stolen, handed out to 3. parties, or sold "under the table". Thhs means robbery with intent to damage 3. parties!  
Assets are any valuable good!
This can be the brand name, the sales rights, sales agreements, any product development stage that can result in profits.
Especially if such a product was developed on costs and with the help of many lawyers and partners, in order withstand the IP right claims of patent holders.  
Once bankruptcy has been filed, a court appointed bankruptcy lawyer usualy will priminary manage the company, and may take offers of investors into account. THis would have been the correct way of introducing an investor!
Of course such investors do not have imediate access over the entire company. First they must simply invest and enable the company to delet the "nearly bankrupt" status. 
The appointed interim manager will have to first carfull manage/ balance  the revenue, negotiate with debtors, with the all over aim of reducing negative balance. 
Appointed lawyer would judge together with his experts first of all the assets and guard them from robbery. Especialy the CEO and former manager, core staff must be keept from access to valuable assets! 
We did not see any of such preventive actions!
The assets and sales rights have been obviously sold 2022 to an unknowen "investor", that first of all changed everything to his sole and immediate benefits. 
Investment means to fill the cash registre and not to "pick the cherries of the cake" and eat them up!
We suspect an act of delaying bankruptcy from Mr. Simon Phillips during 2022.
By delaying bankruptcy and possibly enabling an unauthorized "sale out" of IAQUA valuables and assets (especially the profitable IAQUA NANO development), most likely as a criminal act took place and must be reported to the local chamber of commerce.
We will request a FRAUDULENT TRADING criminal investigation 
Subjects and their partners that abuse a countries trade system and do not obey the most simple laws of "a proper business", shall be cut off the VISA regulations, and right to do business in China
If IAQUA does not solve the pile of issues and does not take over respnsibilities, then our facts and the conclusion remain true.
We demand IAQUA to transparently reveal how the bankrupty was actually avoided, hence at what point an investment was received and what it has been used for. 
Who is managing the revenue and the profits?
Current double assingnment of distribution have to be explained and reverse compensated.
Coverage of previouse damages by granting rights and future business outlook became a unfulfilled promise and will raise even higher damage claims. 
Granting a so called "new shareholder" general access to decision making of complete production, sales, reseouces , and even access to the accounts of IAQUA,is highly questionable. 
Permitting knowingly the sales of current products and future business opportunities/ trade agreements to 3. parites, and violating therefore existing trade agreements with actually debtors, is not only moraly speaking a no go, and in a legal sense it is robbery! 
If revenues are channeled to only benefit the new owner himself, or the new sales structure of the owner's "best friends", then Mr. Phillips has in our opinion actively left IAQUA uncontroled on purpose.
So to say doors were left open" and left valuable assets unprotected.
We have reports that some of the IAQUA trechnology was transfered to competitors that also presented in 2023 a similar product. 
Along with "Mrs. Moshes" internal information was according to Mr. Phillips/ his knowledge transfered to another company.
"the best horse left in the stable" is the IAQUA NANO product. This is under full control of exclusively the new owner. 
Without the proper and transparent management of an appointed bankruptcy lawer, a company can not be saved from bankruptcy, unless an investor simply supplies money and will profit in the long run ... or not. 
Mr. Simon Phillips has transfered control  the company approx. 2021 first to his brother, and then altogether in very unexperienced hands of an interims Manager called "Germany Moshes" together with other jung inexperienced people (Son of Jason Phillips and Son of the Thai IAQUA dealer called Nickly), ... litterally a bunch of kids.
Mr. Simon Phillips has withdrawn physically his IAQUA manger Mr. Danish Mohamed, in order to care for another company called "Scumadi" in Thailand.
AQUA was therefore left alone poorly managed, while in difficult proceedings and aftersales issues claims caused a lot of damage. 
Just resently the same Manager was reinstalled but for a long time not available due to family business in India. In our point of view IAQUA is mainly managed from home offices around the world and chineese staff left alone to produce questionable results. This was different when Mr. Phillips managed the company and was present in 2018/2019!
In our opinion the main share holder Mr. Phillips lost intrest in IAQUA the more problems piled up. This triggered partly big mistakes or claimed illegal actions, such as knowingly sales of infringing goods to a grey dealers within Spain (CEUTA), causing a massive IP right claim.
Profit pressure, despite quality issues and legal limitaitons increased the chaos. Profit driven emplyees and partners will increase the chaos. 
Additionally massive battery problems, in short piled up aftersales issues are up to this day left unsolved, because how can a dealer care for aftersales if he must watch his distribution rights go down the drain/ promissed to new aquired partners ... including business outlook in aftersaels access.
Without proper parts from IAQUA aftersales cannot be taken care of. The new team lacks in our opinion aftersales experience, an understanding of product responsibility, and partly proper qualifications. 
Given the fact that CORONA battled the different business branches of Mr. Phillips, we did understand and showed understanding.
However, after analysing the activities since Mr. Phillips stopped to care we must say that this is simply a failure to take over responsibility and leaving the field open for "kids" to act partly adventures ways that has caused a lot of damage to a lot of good people!
Sadly we must report that unpaid bills remain open, despite our constant pledge to take on responsibilities, follow agreements, and pay off the bills at least step by step.!
Due to the fact that IAQUA Products require a full legal back up, we can currently not recommend to purchase an IAQUA product, because the legal back up is not granted at the moment, actualy granted at the moment. We have no idea who is in charge within IAQUA and under waht conditions the shares were sold.
This will possibly cause IAQUA partners having to file bankruoptcy as well, or at least directing resourcess to cover the legal claims as best as possible. 
I hope you understand why we "whistle blow" our opinion, because in the end we want to avoid also our bankruptcy,  and at least point clearly to the ones responsible for this mess. Any profit within IAQUA must be directed to the detors and for covering claims!
To our knowledge also the new product has been compromised by the competitor claims to supposed to violate patens.
The new products of IAQUA represent an development evolution, which was only possible and legal because courts and lawyers have defined step by step how an IAQUA product must be built in order to be possibly free of legal claims.
Such "development costs" are lawyers, courts, and so on to be paid and part of the open bills of IAQUA all over EU.
Also the competitor has suffered set backs due to preliminary as infringing rated products in first instances.
At least those damages are due and must be paid from revenue, before any profit could be declared ... let alone be credited to a "new owner" or controlled of such a unknown factor..
This affects especially the valuable business outlook of profits from IAQUA products with a less probability to infringe patents. 
It is our duty to "whistle blow" the current devastating situation in order to prevent further damage!
We will not take part in supporting a seemingly reneltless and selfish self appointed owner, that possibly has gained acces of IAQUA assets by criminal acts of either Mr. Simon Phillips in sort of a team work, and causing massive damage to partners, clients, and also to competitor and its open rightfull claims.
So far we demand IAQUA to simply pay open bills, pay back debts, and also cover the damage and fines that courts have decided in first instances to be paid.
We demand IAQUA to stick to the agreements and the continuation of the proper procedures on how to introduce a product within the EU.
Only with "fair play" at hand and IAQUA taking on responsibilities and caused damage, TOYMASTER would consider to continue the support/ offering TOYMASTER tested products that meet our quality expectations.
Currently we clearly draw a line and demand IAQUA to come back on track or declare bankruptcy. 
The NANO product is not as advertised and it is not available!
We can not see how IAQUA can profit from this product that is completely out of quality control, without proper manual, not in complience with EU regulations,  and is sold in a "Wild West" manner, causing "shoot outs" between existing distributors and dealers and the "outlaws". 
 IAQUA DIVE Scooter PRO series general DESIGN:
contact the official IAQUA distributor SALES & SERVICE
buy now, book a test drive or request more information.
CONTACT
IAQUA 2023 facts & prices of IAQUADART models and the new NANO top modell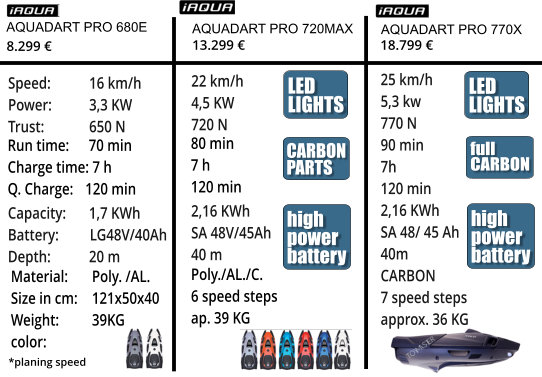 We can NOT recommend IAQUA due to unrealiable quallity, continuing infringing of patents, unsolved aftersales issues (compare detailed opinion). 
Our preliminary opinion about IAQUA NANO 620m?
NANO is a game changer, ... yes, but not necessarily in the water!
effective operating time is only approx. 10 min ( 7 min top speed at level 6-4)    
cool design with LED front and & back lights
weight is tested 25 KG (not advertised 22 KG!)
quick charger strongly recomended. Former IAQUA quick chargers are not compatible
production quality seems ok, but sharp logo edges and partly cheap appeal of materials.  
the promissed smart features (GPS, APP ...) are not installed.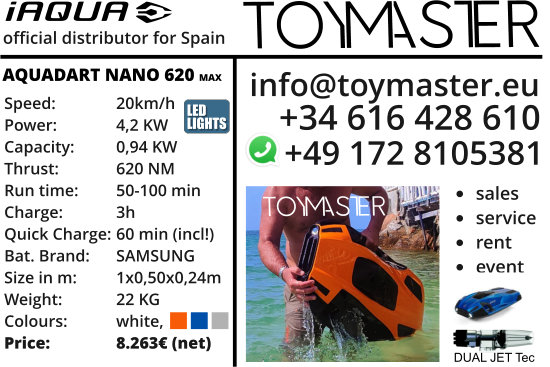 WE STOPPED IAQUA sales due to open issues with IAQUA and continuing aftersales problems.  
*Above prices are subject to change.
All IAQUA dive scooter models prior 2023 have been discontiued.
The Dive Scooter in the above SIDE SHOW represents only the general SEADART DESIGN. Update 2023: Be aware that several IAQUA Models (e.g. STINGRAY & SEADART) have been rated by several EU courts to infringe technical patents!