bsp;
IAQUA is changing the watersport market!
IAQUA DIVE Scooter PRO series general SCOOTER DESIGN:
contact the official IAQUA distributor SALES & SERVICE
buy now, book a test drive or request more information.
CONTACT
Have you checked out the new AQUADART NANO?:
IAQUA has presented at Phuket Boatshow the newest AUQUADART models.
IAQUA claims that the new AQUADART NANO 600 is on eye level with the former IAQUA SEADART MAX and by far stronger than the competitor's lightest models.
Only 22 KG weight would be a new league in the electric water toy ballgame. But how about size and the power ? Well, size is incedible small and schick.
Judging power and all over performance it can best be calculated by puttig weight and power into relation.
The IAQUADART NANO is advertised with 22KG weight and 4,2 KW power. Power- to weight ratio would be 5,8 . Thiis would be just about half of competitor*s best model (29KG/ 2,5 KW = 11,6)!
We compare the lightest and most powerfull scooters on the market and both have a approx. 1 KWH battery on board.
TOYMASTER is testing the new NANO and IAQUADART PRO in Thailand. We will confirm the specs and the performance. We secured stock for spring 2023, so you can pre-order now!
IAQUA 2023 facts & prices sheets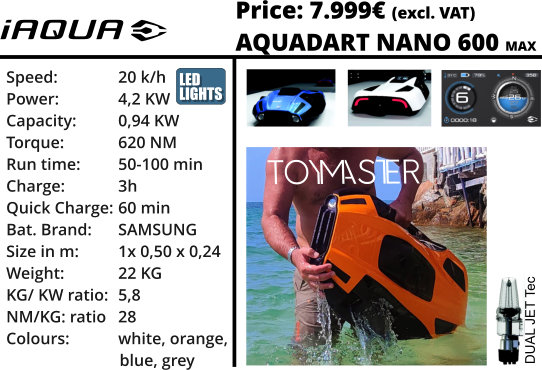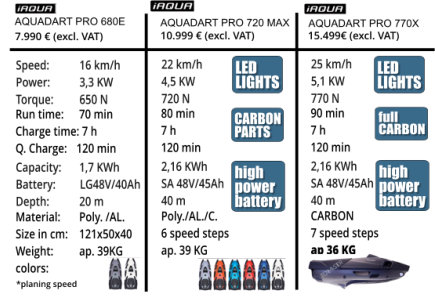 Above prices are subject to change.
All IAQUA dive scooter models prior 2023 have been discontiued.
The Dive Scooter in the above SIDE SHOW represents only the general SEADART DESIGN and does not refer to any specific IAQUA product.
IAQUA NEWS:
IAQUA AQUADART 2023 model contains the 4. Generation Battey System:
smooth battery container surface for even better and tighter fit!
the outside protective "bag" of 2020 models is no longer applied.
cell pack is additionaly protected INSIDE the battery container
battery container end caps are of superiour material (Nylon) and have glass potting barrior technology from deep sea exploration vehicles.
the battery is protected by several water ingress sensors that will indecate a warning on the LED screen.
Be aware of unauthorized IAQUA dealers/ sellers! Only TOYMASTER is the outhorized distributor of IAQUA products in Spain and Austria.
WE ARE NOT RESPONSIBLE OF UNAUTHORIZED IAQUA PRODUCTS AND CAN NOT PROVIDE ANY SERVICEDS FOR SUCH PRODUCTS!
IAQUA models are produced for many contries and in many different versions. Purchase your IAQUA only from an authorized distributor network!
For each country there is ony ONE authorized distributor. Ask IAQUA or the IAQUA distributor which dealers in your country are authorized.
TOYMASTER IAQUA models are 100% tested and quality controled , to meet highest safety & quality standarts.
Our IAQUA versions were produced exclusively for TOYMASTER to our requirements and specifications.
We import our units directly in compliance with all current EU laws and regulations.
IAQUA features and pricing in DETAIL
IAQUA basic model (6.999€ incl. VAT)
IAQUA mid range model (9.499€ incl. VAT)
IAQUA top model (14.499€ incl. VAT)
All off the variations share the same dimensions, approx. the same weight, come with a regular charger and an approved flight box as packing. Kindly note that each year the technology is updated, regardles of the IAQUA product name, So far there are two different designs; IAQUA STINGRAY and IAQUA SEADART. However, STINGRAY DESIGN has been stopped to produce approx. mid. 2019 and SEADART DESIGN has been on the market sinde then. The technology of the IAQUA scooter has changed significaly each year, wihich also affects the outside shape and DESIGN of the models.
Let's check out the basic features in Detail:
IAQUA BASIC MODEL
Simply a 100% FUNpackage at half of the price!
low price
fast speed and long runtime
IAQUQ BASIC is the affordable basic version and already one of the most powerfull scooters on the market! ! IAQUA dedicated great specs. for the the basic model range, in order to be on eyesight of the competitors mid range models, but cost approx. half the price! IAQUA basic models hase almost the same capacity compare to IAQUA mid, and top models. This means they have similar long drive time! Competitor's basic model only offers half of the battery capacity compared to their mid range & top model. If you prefer to carry approx. 6 KG less weight and accept a rather low run time and low power then you shall prefer competitors!
With the IAQUA BASIC model you will receive the most BANG for your Buck, a good package with a perfect fun factor!
Pricees compared to other premiuum brands is cut approx. in half! Draw backs are the limited colour choice, "only! 5 speed steps, and the basic model has no extra features.
IAQUA Mid Range
plus

Models

The IAQUA mid range plus models is clearly the TOYMASTER's choice! It comes with higher specs. and attractive features. The price is still the best on the market!
SAMSUNG battery cells that enable higher speed
SUB LED LIGHTS
CARBON kit - real CARBON appliocations
7 special colours
SAMSUNG cells: The SAMSUNG cells deliver high curent output. Hence the mid range models have the full power punch, speeds up like a sports car, and the SAMSUNG can handle the extra power and offer best runtime and lifetime.
SUB LED LIGHTS: How to tell cometitors appart from in IAQUA? If you see a light it's an IAQUA! You can turn the LED high power lights on and off. With lights you can be seen by others, even during day light! Just like it is obligatory for motorcycles, we strongly recommend to switch on lights during day time and increase safety!
The Sub Light LEDs are very powerful and enable you to simply use the IAQUA with LED lights in pitch dark. You will light up the ocean in front of you! We did test night dives in Thailand and on Mallorca. It was stunning to light up the maritime sceenery. You feel like a space ship in 0 gravity ... an unforgettable feeling!
With sub lights you double up fun time, because now you can explore oceans also during the twilight zone or even at night!
CARBON KIT will increase luxury appearance a big deal! Think about sport and luxury cars. Carbon is not only cutting down weight and improving stiffness, it simply looks incredibly cool! IAQUA mid range plus model have a carbon display housing and the jet outlet bezel is also 100% carbon.
When IAQUA is applying carbon and its real carbon!
Other brands apply vinyl wrap, dip in wrap, and even apply real carbon fiber on top of the original plastic body for.
The IAQUA CARBON parts part come with carbon benefits like increasement in stiffness and less weight. Only then it is real carbon and will create the stunning CARBON look as well.
SPECIAL COLORS are another striking difference in appearance. IAQUA Mid Range Models provide a free choice of 7 colors. This includes colors that are only reserved for mid range line (Corsica Orange and Bahamas Blue), and also metallic colors at no extra costs!
SHARK GUARD (this feature is not available for EU models. It is a simple magnetic field that is generated by an electric pulse that runs through a wire assembly. . No guarantee that it keeps sharks away;-)
IAQUA TOP MODEL
IAQUA top model is PROfessioal . It is packed with all above features of the mid range model, but the key difference is that it is completely (upper and lower body) in genuine ultra strong and light carbon fiber! Naturally the SEADART PRO is the winner in appearance. Own the fastest and most advanced dive scooterin the world!
The speed of a full carbon IAQUA dive scooter is higher, because less weight means more speed!
Also the stiff body improves agility and planing speed. Is there anything that can be compared to an IAQUA full CARBON DIVE SCOOTER?
The IAQUA has a true/ genuine light wight CARBON construction, that includes the lower hull. in CARBON as well. This makes the light CARBON IAQUA Scooter much stiffer and better performing. A very cool CARBON defuser reduces DRAG, like FORMULAR 1 race cars reduce air turbulances.
THE IAQUA top model is equipped with a multi blade impeller, which can run much higher revolutions! The full CARBON boddy can handle such higher revolutions and the result is a wisper tubine like drive. The IAQUA top model has 7 power steps, is faster, has different software/ power settings, but it is based on the SAME technology & SAMSUNG high power cells as the mid range IAQUA models!
Now you know the differences between the IAQUA moels. The model name may indecate the state of technical Evolution.
SEAJET, STINGRAY, IAQUA ONE, IAQUA NEO IAQUA EON, IAQUA 650c, , IAQUA 720s, IAQUA 770p, and IAQUA SEADART( SEADART22 series are discontinued versions.
You can be sure that TOYMASTER and its connected dealers always supply the newest IAQUA model. IAQUA is fast in evolution and developement.
The IAQUA Story
IAQUA consists of a young team of international engeneers and designers thet centers around British founders. The key to sucess is that the founders are one of the biggest car part supplyers in the world with professiona developement and production facilities in Shengzhen China and Thailand.
What was the reason for them to enter the water sport market? Well, the founders simply where stunned by the very high prices and rather bad quallity and aftersales services in water toy bussines.
We were in 2017/2018 the first authorized SEABOB dealer that was confronted with the in our opinion new striking IAQUA products.
We had to react, because our SEABOB business in Thailand/ Asia was affected from obviouse growing IAQUA competition already.
In our opinion (looking back) IAQUA dive scooters are the more advanced and more modern product. IAQUA provides a very good aftersaels service, and prices are considerably low.
Since 2013 we were exhibiting at international boat-shows in Thailand. 2017 we were invited to the VIP KATA Rocks Boat Show in Phuket, in order to present our SEABOB dive scooters for trial and purchase.
Well, we were stunned when IAQUA debuted the IAQUA DIVE SCOOTER concept!
Back then it was still a Concept, presented by a bunch of international enthusiasts, obviousely planing on offering an alternative DIVE Scooter (similar to DELFJET & SEABOB)).
We already felt and figured that this team of young man was ment to stay and will redefine the Dive Scooter / DPV market step by step.
Apply modern electronics and stunning new features at much lower price tag seems tho be their mission and core abillity.
Only few months later (at the Thailand Yacht Show in Feb. 2018) IAQUA presented at a SUNSEEKER sub dealer stand several actually working IAQUA DIVE Scooters, ... not only a DESIGN CONCEPT.
2018/19 we were invited to the official IAQUA presentation in Thailand, where IAQUA presented the finalized unique IAQUA dive scooter product at the famos CATCH Beach Club.
We had the chance to test IAQUA dive scooter models in Thailand . Numerous international dealers were present. Everybody was stunned of the professional way the new product was presented to the public from the friendly and transparent IAQUA team.
IAQUA is a big high tech player in Shenzhen China. The background is impressive, because IAQUA is a branch of one of the biggest automotive parts manufacturers in the world. This means that IAQUA products follow high automotive quality standards, and they know how to produce reliable quality parts at low price in China.
IAQUA produces genuine industrial products. This is why quality is high, and costs are low! Also the innovation and production speed follow car industry constant demand for the newest innovation and trends.
Maybe now you understand why IAQUA was rated by us a game changer and has prooven to be an alternative. IAQUA has just started to revolutionize water sport products and recently (approx. 2022) has new heavy investors on board.
The IAQUA team consists of an international engineers team that is proud to work and produce in high tech Shenzhen.
Product development and innovation take place where highest technology standards are given. We all must understand that in many aspects this is not any more only the western world! Where does your smartphone come from? Who builds the best TV's , Where do car makers purchase technology?
COVID has slowed down China! This had naturaly also an effect on IAQUA production, supply, and prices.
However, this affected not only IAQUA! THe whole world depends on chip sets and batteries from Asia ... also the IAQUA competitors and water toy industry/marine sector in general. IAQUA has many resources inhose and is pecialized on local supply in China, which is of course more efficiant than having to depend on overseas exports. The micro chip industry depends on Asia and can not be entierly "Made in Germany" Did you know that parts for EU compeditors and more than one water sport toy manifacturers that advertise "Made in Germany" and "Made in Austria" are actually produced by IAQUA related company?
IAQUA general Information
The IAQUA dive scooter can be used on top and under wate up to 40 m depth. It is battery (accumulator) driven and can be recharged with a fast charger. An IAQUA scooters / DPV weight approx. 29 - 36 KG, have a modern design, are built from state of the art composite material that is supported by marine grade aluminum parts. Also available in a much stiffer full genuine carbon version.
IAQUA dive scooters are build with simplicity and innovation in mind. All modules are mounted neatly on a tray/platform. Crucial parts (like the handles to hold on and the carry handles) are metal supported (marine grade aluminum). Also in terms of thermal design no compromises were made.
ECU (the brain and power switching center) is milled aluminum and will transport heat very effectively into the air or water. Many competitors like dive scooters, electric surf boards, and other electric powered machines suffer severely from thermal problems! This causes the devices to cut down power, stop, or even get damaged.
MOSFETS are the most sensitive parts of any modern electric driven vehicle. They will transfer battery power into motion, by supplying a precisely triggered frequency controlled high current to the electric motor windings. This high power switching technology is a critical process to manage and control! Most manufacturers rely on radio shack parts or have them customized. IAQUA develops critical parts from scratch, applying latest technologies and up to date components.
MOSFETS need to be cooled down constantly or they will simply burn. It is essential that a manufacturer is able to control thermal dynamics and constructs a technology that safely enables and controls high currents and excessive heat development. It takes the best available parts and most up to date technology in order to compete in that segment. Constant technology revision and improvement is the only way to stay on top of performance, reliability, and also product safety. Watercooled parts are not a solution if a device is actually used on top of the water! Many compeditor's technical design is faulty, because on top of the water (when planing) the technology is partly not water cooled! The technical design must take the harsh conditions of salt water use into account!
IAQUA not only has the resources and access to the highest technology standards, they also have the engineers that understand how modern technology works and can be applied in an industrial sense. This is what makes the IAQUA DPV unique on the market, because it is the high tech industry discovering and understanding the water sport market.
The users will profit in high quality, innovative, state of the art technology, and affordable products.
It is our job to confirm that products meed our standards. IAQUA DPV does, that is why we sell IAQUA!
Dive Scooter History
It took IAQUA around two years of development to create a state of the art multi-functional electric water craft.
It was equiped with patented unique buttons that offer an optical feed back when pushed.
Two triggers that engage the movement of the Dive scooter are distingishing funtional features that also enhance the safety of a fast Dive scooter.
In dive scooter history there have been many types of dive scooters / so called DPV.
What pops into mind are torpedo like shaped machines that were used in James Bond movies in the 1970's.
Those scooters were already battery driven, and were equipped with a propeller, semi jet, or jet drive. Naturaly they had some kind of handle or handles to hold on ot. Also those handels had some kind of switch ot mechanism to trigger on/ off or speed steps. Those features are surly not new and can not be patented.
For mainly on top/waterlevel use there was a very common gasoline driven snorkel scouter in the 1980's. Many clients report that they actually used that water sled when they were young. Besides that there are numerous devices that run on top of the water and can also dive for some time.
Dive industry produced numerous electric driven scooters that had improved hydrodynamic efficiency, small size, exchangeable batteries, and even good looking colorful design in mind (SCUBAPRO, SEADOO, Yamaha, Altivs and many more).
A device called "DELFJET" was acually the fist fast/ jet diven Dive scooter (DPV). It was invented around 1995 and represented a very powerful version of priviouslely existing DIve Scooters with similar design and technology.
THe Delfjets special feature was that it contained the crazy expensive first Lithium Ion batteries that were available for non millitary use. Those rather Space Technology Lithium Batteires (actually used in Satelites!) made the difference and enabeled to imply a jet driven dive scooter with water flow cooled battery and engine.
Those are original flyers from the DELF Sports GmbH Company which was taken over from ROTINOR GmbH, that split into ROTINOR (Millitary products) and CAYAGO lessure products. Important to understand is that the original DELFJET was not invented by an existing Dive Scooter manufacturer! THe inventor licenced CAYAGO to produce the DELFJET as "SEABOB".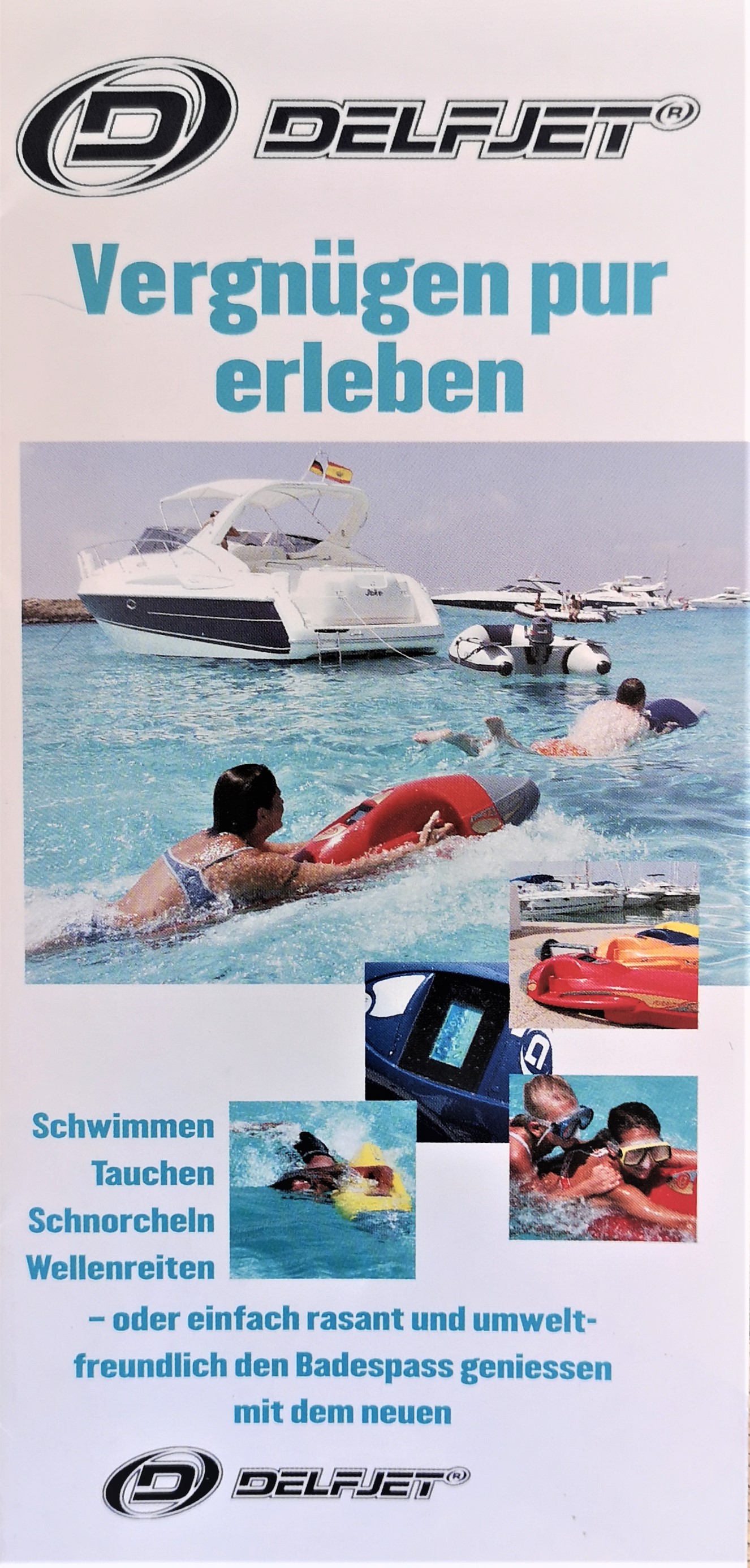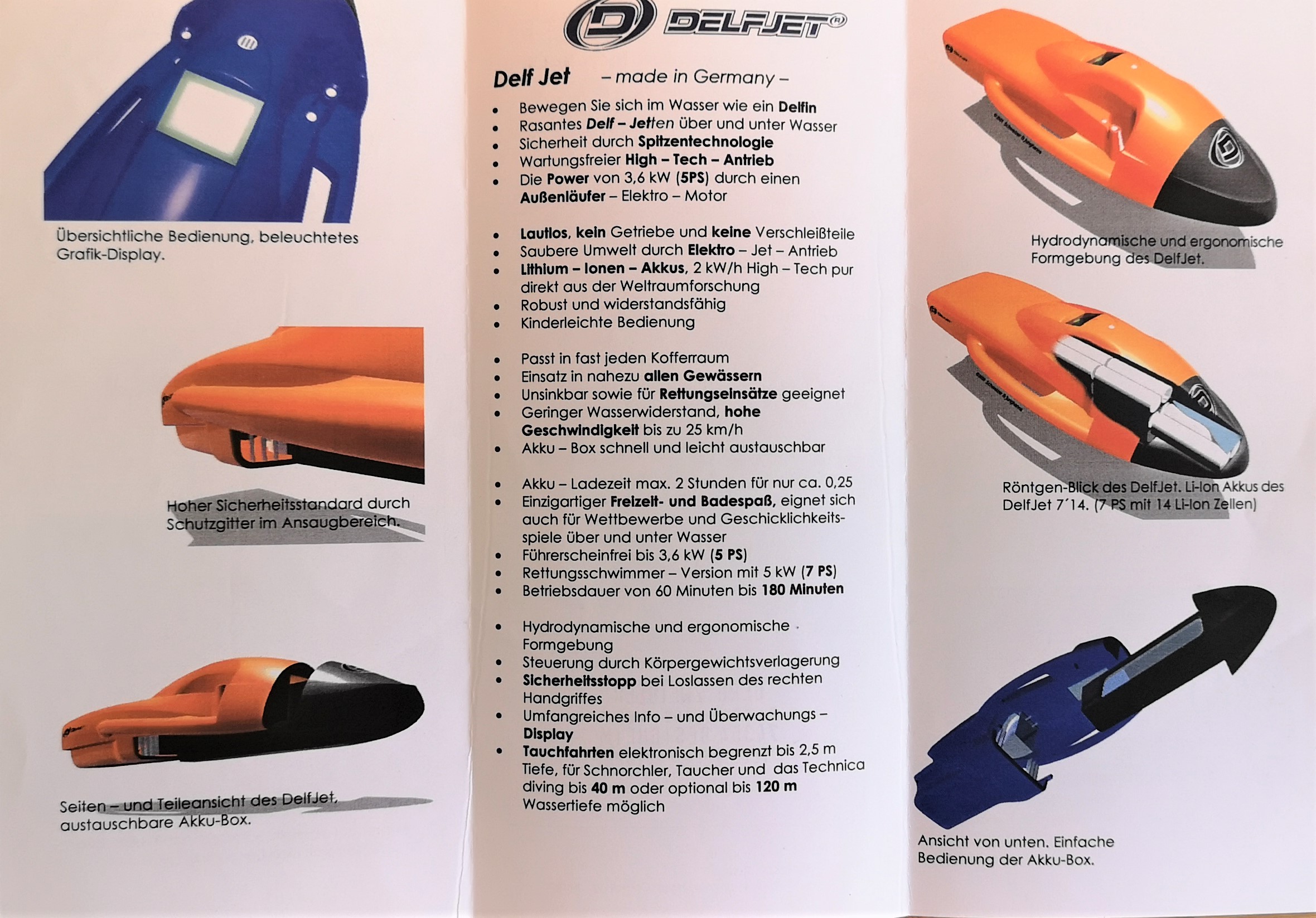 Here you see the original DELF Jet as it was invented and sold approx. feom 1995 (original foto that shows one of our DELFJET units!):

Now you see one fo the first CAYAGO / SEABOB catalogs that display exactly the DELFJET product under the name "SEABOB":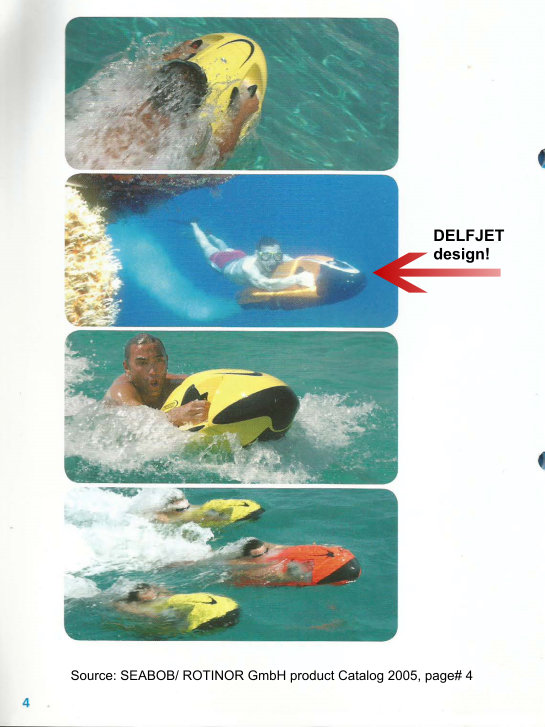 This shall not minimize the success of SEABOB but it shall simply show the history of fast Dive Scooters, who invented the different versions and how they became popular. CAYAGO did a very good job to introduce such fast DIve Scooters like the DELFJET into the yacht market under the name of SEABOB, and used DELFJET technology.
SEADOO and YAMAHA also redesigned their scooters and switched to LI-ION technology.
The SEABOB was very fast but also very heavy .
SEABOB Rave Jet, 5.12 , 5.12 ACS, VX2, 4.12 and F7 where the model variations of the origina original DELFJET.
The SEABOB models had differnt power and also exchangeable batteries (like the DELFJET, that was from the start equipped with an exchangable Battrie System).
CAYAGO ( also knowen as "the SEABOB company") managed to reduce in approx. 2011 the weight further by switching to the industrial standard "18650" Litium battery cell type.
The double walled hull was still foam filled, but came in a modern plastic design, (in our opinion inspired by seadoo jet skie design and general "form follows fuction" principels).
Former SEABOB F7 was discioniued step by step as soon as the "new SEABOB F5" was introduced to the market in 20011/2012. Repair of former SEABOB was replaced by offering clients a so called "trade in discount offer"
Parts for old SEABOB were discontiued, battery is not available as regular spare part, and also repair of old SEABOB (DELFJET DESIGN) was discontiued at least for the lessure sector of business.
SEABOB F5S and F5SR are rather derivations of the F5, With introduction of the SEABOB F5SR an integrated camera was presented as innovation.
SEABOB F5/F5S/F5SR share the same base construction. CAYAGO was very successful with this product, because it was simply fun and much lighter than the former 65 KG SEABOB .
Difference between CAYAGO/ SEABOB and an IAQUA scooter is that IAQUA has a totaly different hull concept, different array of modules, and the technucal modules are connected by very maintanance friendly conectors. IAQUA Scooters are controled with only two LED light empowered buttons. For increased safety IAQUA emplyes two trigger (one for each hand) in order to make sure the IAQUA Pilot has both hands on the machine. Also IAQUA mid range and PRO dive scooters have LED head lights that light up the night!
Neither CAYAGO, IAQUA, or SEADOO (and many other brands more) invented the fast hand held dive scooter concept with positive buoyancy and a jet drive like propulsion.
The modern dive scooters we see today /for example IAQUA, SEABOB, AMAZEA, Altivs …) are simply the result of combining modern technology into a more or less hydrodynamic hull!
IAQUA redesigned the existing technology, applied the newest electronics, and made the dive scooter not only even better by emplying regulary state of the Art technology, but also a lot less expensive.
Genuine experienced industrial production is the reason for coniniouse improving technology at reasonable prices. Also the SUBLUE company has showen an incredibel product and innovation (NAVBOW) and is working also on a bigger dive scooter version (Altivs). CAYAGO already "attacked" SUBLUE delers because formaly the small SUBLUE bow shaped DIVESCOOTER was nemed "SEABOW" ... a German court found that name too close to SEABOB.
COnsiderimg how many marine business and manufacturer use "SEA" in their name or product name it is quiet funny that a court actualy granted such complain :-). THe word "bow!" is actualy waht differentiates a SEA BOB from SEA BOW, where as SEABOB is a BOB like slade, while the SEE BOW is rather a bow shaped device that one holds in fromt (like a bow). However, all companies that are attacked by competitors may be the potential better choice!
Water sport industry is changing, and we believe that all kind of water toys will improve and equipped with state of the art technology in order to compete.
Products will benefit in modern technology and the advantages of industrialized production. This will enabel lower prices and more reliable smart products.
This is called technical evolution and the free market will select simply the best!