SUBLUE NAVBOW is the low budget mini scooter that we would select! !
 NAVBOW in stock for 1.299€ (incl. VAT)
SUBLUE SALES & SERVICE
buy now, book a test drive or request more information.
CONTACT
SUBLUE NAVBOW facts: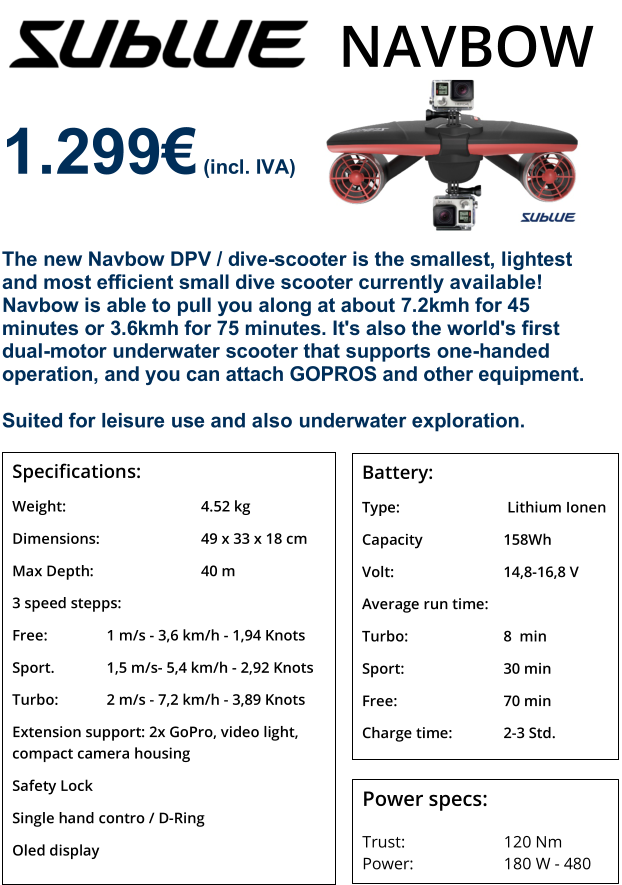 About SUBLUE:
most experienced small dive scooter company in the world!
Made in high tech China!
exelent logistic set up
very responsive aftersaes 
the manufacturer has EU headquarters!
dense dealer network, but most dealers are not speciaized on or experts on scooters. 
We had so far good experiences with the manufacturer SUBLUE and it's competent team! We solved some buerocratic issues/ SUBLUE was openminded and is complying with EU laws and regulations.
Also interesting is that a SUBLUE dealer was attacked by CAYAGO because the NAVBOW was named before SEA BOW. Since it is shaped like a "bow" and used in the SEA we think that the name was ok, however a German court forced the dealer to cover up the name.
In our opinion this could indecate that also CAYAGO (the SEABOB company) might be impressed bny this little felow, but of course we can only guess that this was the reason for the legal attack and the inforced name change.
NAVBOW performance
 When I tested the NAVBOW this year (2021) in still cold march waters on Mallorca, I was totally stunned about the performance and the run time!
The pulling speed reminded me on SEABOB F5 prototype tests. Back then I was rather disapointed about the SEABOB F5 Speed compared to the former top model SEABOB F7.
Of course a SEABOB F5 is a different ballgame, but beiing the the rather weakest member of the SEABOB scooter family, a rather slow scooter (especially if you are not a kid) it represents the lower end of powerfull scooters. Copared to the state of the art NAVBOW, the NAVBOW showes an impressive torque and pulling cabaillity and the run time is even comparable!
A SEABOB weighs 26 KG (they say), well a NAVBOW only 5 KG!
When I tested the NAVBOW my subjectif feeling was " wow, this feels under water very similar to the slow SEABOB F5"!
Just to be clear, SEABOB F5, and especially SEABOB F5S and F5SR and also the IAQUA scooter range can not be compared to a SUBLUE NAVBOW in a fair way! 
Those fast dive scooters (IAQUA does not have the rather low range SEABOB F5 equivalent product) are different in the way they can be used (they glide/ plane on top of the water), different in material mix, and totaly different in DESIGN. A NAVBOW has two electric motors that remind me on big Rollce Rollce jet engines hanging on a Boeing 747 wing. Well they seem in relation just as powerfull!
As the specialist and toy-instructor for rather powerfull toys I can only recomend you this supertoy as a must have if you hit water frquently. 
It is small, light and will always come in handy without any hassle!  
NAVBOW technical rating
The NAVBOW contains a very powerfull and solid built LI-ION battery. 
Waht we wlike about this battery exchange sytem is:
battery can be exchanged super fast and super easy!
the sealing mechanism is easy to visually inspect and clean!
the power carring contacts are oversised, stick out, easy to inspect and clean!
the way to place the battery is fool proove!
battery is cooled by surrounding element (water)
SUBLUE has surly employed all it's experience in this top model! 
Small Dive Scooter History
The history of small scooters that habve two motors is a short one.
THere have been numerous companies and scooters. But in fact there are only about three big players and they are all in China.
GENEINO sells succsessfully the GENNEINO S1 and the new smaller S2. There is the powerfull YAMAHA, that is actualy a white lable product also available under other numerous names. Resently JOBE has jumped on the train and white labeled a product. It is hard to say which brand is actually producing the small scooter. The problem is, when you purchase a new brand it may contain an old product! Old "wine in new bottles"? Well, purchasing with manufacturer brands like SUBLUE and GENNEINO you can be at least sure to count on latest improovements. We tested also the competitors and in general their top models perform simila to NAVBOW, however, NAVBOW sticks clearly out in terms of top speed, endurance, and design!